The U10 Deluxe is a further development of the U10, produced at the same build quality but featuring the extended playing range provided by 10 strings. It's also the only stereophonic Touch Guitar, aimed at players who might wish to focus on and differentiate the instrument's polyphonic abilities.
The U10 Deluxe features a similar body to the U8 Deluxe with its elaborate ergonomic shaping , a wider neck to accommodate the greater string range, a single pickup arrangement, and passive electronics. While it remains true to the original Touch Guitar concept of a single self-contained full-range instrument, its design also allows for separate output of the two "bass" and "guitar" ranges if desired. This is achieved via a split stereophonic pickup and a two-plug output socket through which each range is processed separately, plus individual volume controls for each of the two ranges.
As with all Touch Guitars®, construction and finishing options (from wood types used through to custom paint and varnish) are discussed with and chosen by the customer, as part of the custom-creation process.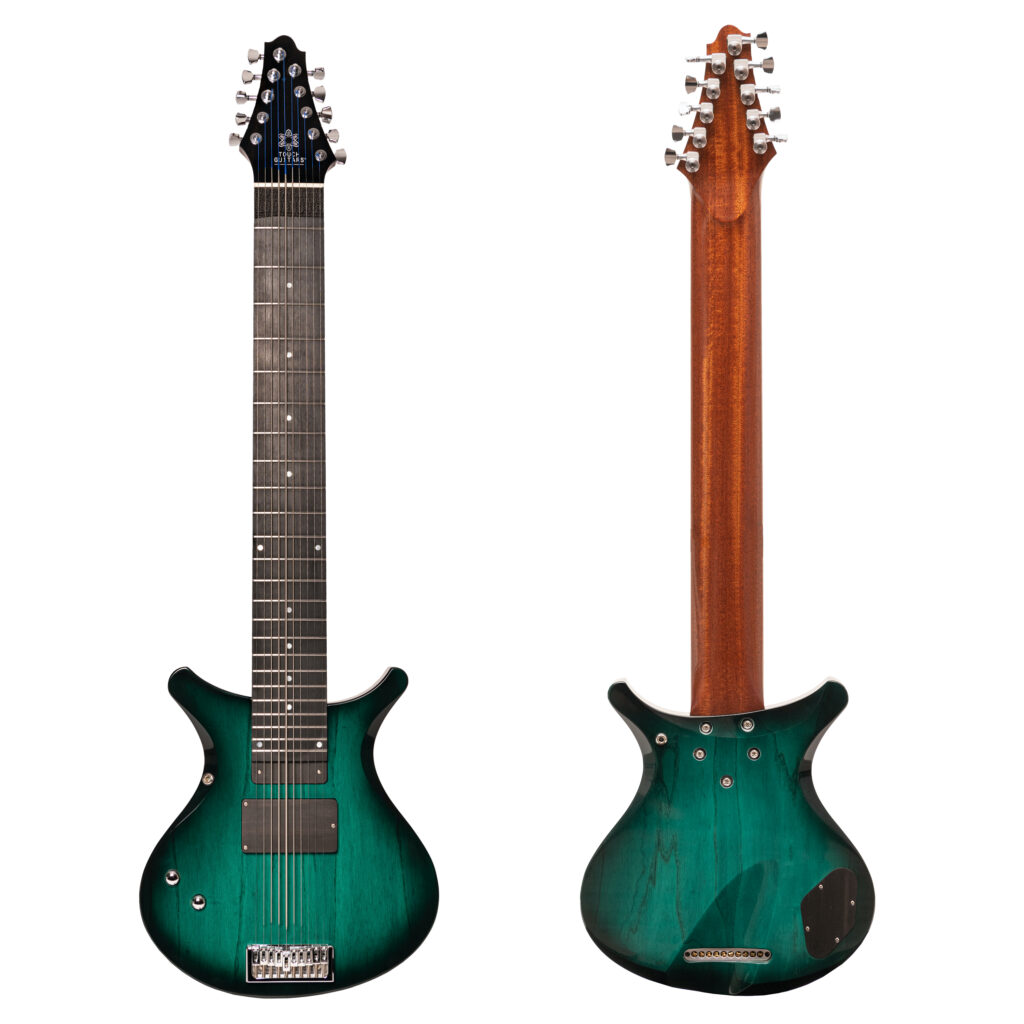 34″ (86 cm) scale length (smaller and lighter than a regular bass guitar, similar feel and heft to a baritone guitar).
Extremely well balanced (stays stable in all playing positions).
Body: Solid body, made from FSC-certified wood. (Default wood options: mahogany, cherry, swamp ash, maple or ash – other options available on request.)
Neck: FSC-certified wood with five-point bolt-on construction plus two graphite rod inserts to enhance stability. (Default wood options: 3-piece maple, mahogany or korina – other options available on request.)
Fretboard and headstock overlay: FSC-certified wood. (Default wood options: ebony, walnut, maple or plumwood – other options available on request.)
10 strings with two default tunings to chose:
(5th/5th) D G C F Bb | C G D A C
(5th/4th) E A D G C | F# B E A D (although different tunings are possible)
Touch Guitars® Locking Tuners.
ABM Custom Bridge with string-through-body system.
Jim Dunlop Straplock System.
Damping fabric on 1st fret
extremely well balanced, stays in place in all positions
Pickup Options: Bassculture modernSplit 5/5 Pickup, Häussel Bassbucker Split 5/5 Pickup
Controls: volume (bass side), volume (guitar side).
Default two-plug stereophonic output (switches to mono automatically when only one plug is inserted)
String spacing: 8,5 mm
Finish: default natural clear or sunburst finish (with any other paint and varnish option available, via individual arrangement with customer).
Handmade in Austria/Germany
5600EUR (excluding German VAT)
Through this way you will receive official news related to Touch Guitars, the Touch Guitar Circle and its members.
We will send out a newsletter every two to three months.