S8 (MARKUS REUTER SIGNATURE MODEL)
This Touch Guitar design was introduced in mid-2020. This signature S8 model provides significant variations on the successful AU8, T8 and U8 Deluxe models. It combines the best features of all instruments resulting in a curved body for perfect ergonomics and playability. The design incorporates 3D-shaped horns plus extended cutaways for greater forearm comfort (and to enable easier access to the top frets from both sides of the neck).
The instrument features high-end electronics from our friends at Darkglass Electronics. A Tone Capsule with two mid-range controls and one bass control enables unique versatile possibilities to shape the sound. 
In contrast to our custom made pickups, which are widely known for the amazing bass response, we decided to use modern extended range guitar pickups to achieve a more guitar like sound. Combined with the Tone Capsule there are unique possibilities to achieve different sounds from screaming lead guitar to thick bass with a huge low end. The perfect tool for stage and recording studio.
The S8 uses a two-pickup/five-position arrangement (similar to that of a classic electric guitar) and a monophonic output. 
Focussing on sustainability, we decided to use local wood exclusively. To get rid of the 9V battery, the S8 has a rechargeable battery included which can be charged via USB. You can play 160 hours with one charge and an indicator LED on the back shows when there are 7 hours left to play before you need to charge. 
As with all Touch Guitars®, construction and finishing options (from wood types used through to custom paint and varnish) are discussed with and chosen by the customer, as part of the custom-creation process. The S8 also features the option of choosing a distinct wood for the instrument's top. The instrument is completely handmade.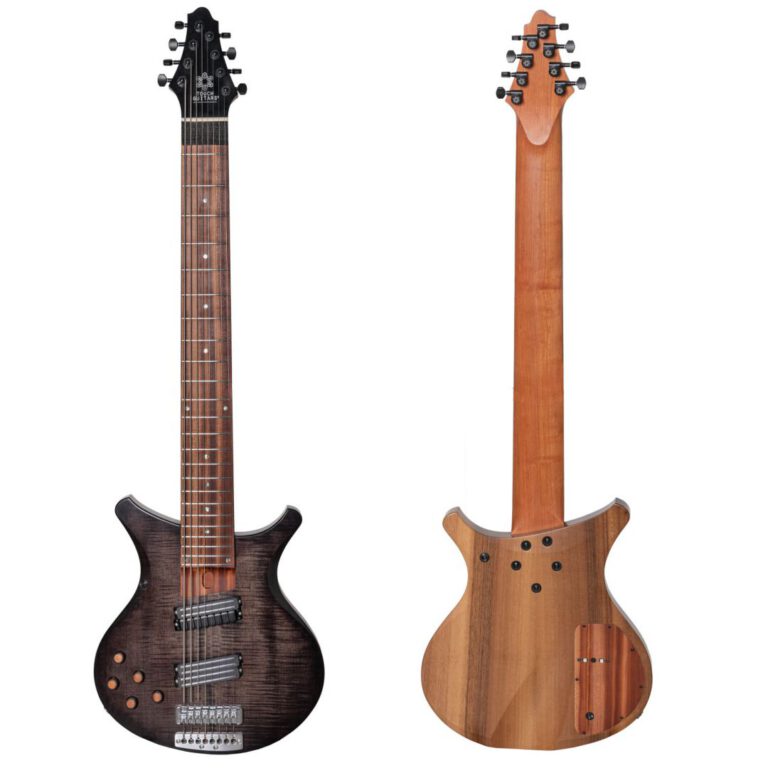 34″ (86 cm) scale length (smaller and lighter than a regular bass guitar, similar feel and heft to a baritone guitar)
Extremely well balanced (stays stable in all playing positions)
8 strings with default tuning of Bb F C G D A C D (custom tuning is possible)
Touch Guitars® Locking Tuners
ABM Custom split Bridge
Jim Dunlop Straplock System
Body: offset design with 3D curved body and extended cutaways, made from FSC-certified local wood (example options: plumwood, basswood, paulownia, maple, walnut)
Neck: FSC-certified local wood with five-point bolt-on construction plus two graphite rod inserts to enhance stability (example options: maple, walnut)
Fretboard and headstock overlay: FSC-certified local wood (example options: maple, walnut, pear, plumwood)
Top: FSC-certified local wood (example options: apple, pear, plumwood, maple, walnut)
Damping fabric on 1st fret (can also be removed easily if necessary)
Pickup options:
1. 

Touch Guitars

 Modern
2. 

Haven

 Omnia Custom,
3. 

Lace

 Alumitone,
4. 

Cycfi

Spectra
Electronics: 

Darkglass Electronics Tone Capsule

String spacing: 10,4 mm
Controls: Volume, 5-way pickup position selector (neck humbucker/inner single coils/neck and bridge humbucker/outer single coils/bridge humbucker)
Finish: default natural clear or sunburst finish (with any other paint and varnish option available via individual arrangement with customer)
Handmade in Austria/Germany
6800 EUR (excluding German VAT) 
Through this way you will receive official news related to Touch Guitars, the Touch Guitar Circle and its members.
We will send out a newsletter every two to three months.