The AU8 is the first semi-acoustic 8-string Touch Guitar model. Built to similar dimensions to those of the U8 Deluxe, it's a completely handmade hollow-body guitar with one magnetic pickup, supplemented by eight piezo pickups. An active electronics setup allows for the volume of each individual string to be adjusted; and there are two onboard 2-band EQ controls (one for the piezo pickup system and one for the magnetic pickup).
This arrangement gives the AU8 the most dynamic sound potential of all the Touch Guitars®, centred around a very full acoustic sound which is unique in the touch-style instrument world (and allowing extensive tonal and sonic adjustment prior to amplifier/pedalboard processing).
As with all Touch Guitars®, construction and finishing options (from the different wood types used through to custom paint and varnish) are discussed with and chosen by the customer, as part of the custom-creation process. An additional option available on the AU8 is the choice of a distinct wood for the instrument's top. All woods are specifically sourced from local central European woodlands.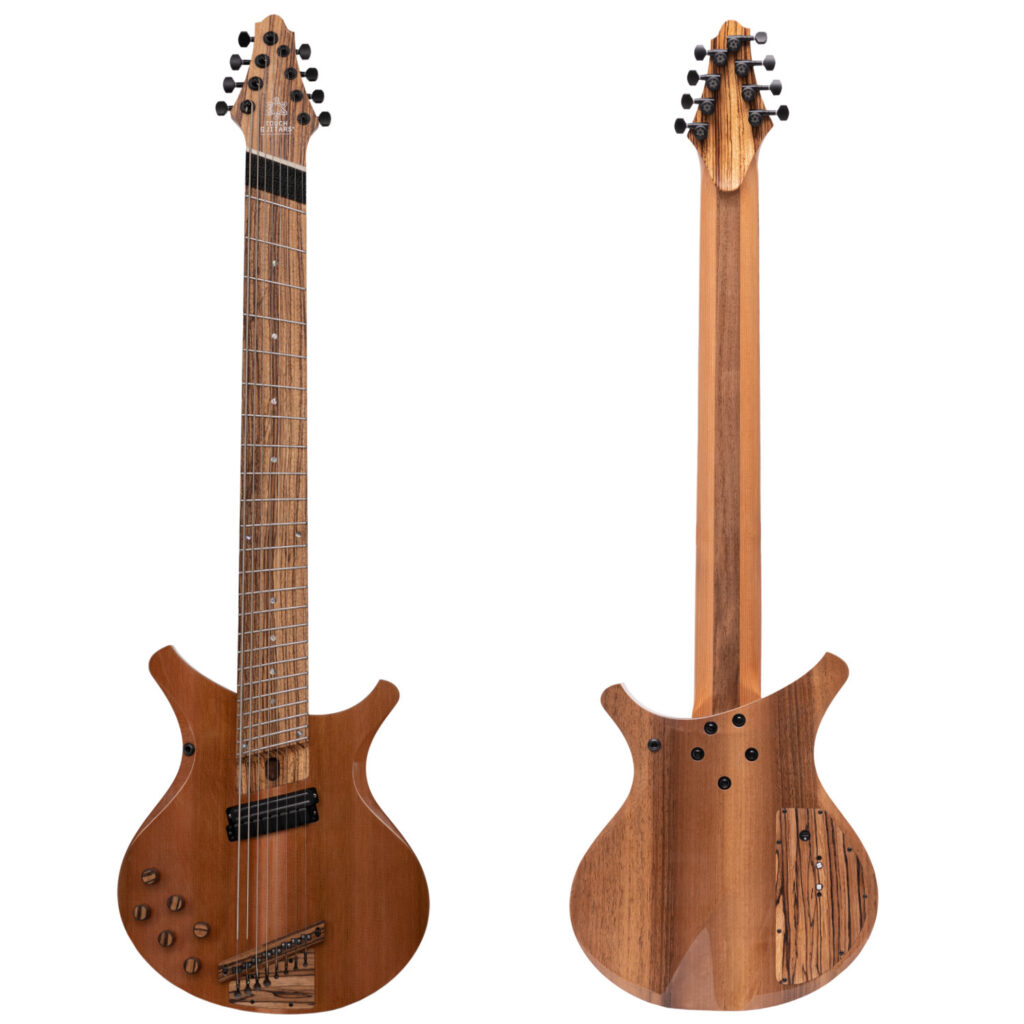 34″ (86 cm) scale length (smaller and lighter than a regular bass guitar, similar feel and heft to a baritone guitar) – multiscale available with additional charge
Extremely well balanced (stays stable in all playing positions)
Body: semi-hollow, made from FSC-certified wood (default wood options: mahogany, cherry, swamp ash, maple or ash – other options available on request)
Neck: FSC-certified wood with five-point bolt-on construction, plus two graphite rod inserts to enhance stability (default wood options: 3-piece maple, mahogany or korina – other options available on request)
Fretboard and headstock overlay: FSC-certified wood (default wood options: ebony, walnut, maple or plumwood – other options available on request)
Top: FSC-certified wood (default wood options: spruce, maple, walnut or cherry – other options available on request)
8 strings with default tuning of Bb F C G D A C D (although any tuning is possible)
Touch Guitars® Locking Tuners
Custom Bridge with separate Piezo Pickup for each string, plus custom tailpiece
Jim Dunlop Straplock System
Damping system on 1st fret (can also be removed easily if necessary)
Pickups: 1 x Cycfi Spectra 8 with tone block; 8 x Custom Graph Tech Piezo Pickups (Multichannel requires additional charge)
Active Richter Engineering Custom Electronics
Controls: main volume, pickup blend, 2-band EQ for magnetic pickups, 2-band EQ for piezo pickups, individual volume controls for each string via trimpots in electronics housing
Custom shaping at contact points with player's leg and abdomen, to improve comfort
String spacing: 10,5 mm
Finish: default natural clear finish (with any other paint and varnish option available via individual arrangement with customer)
Handmade in Austria/Germany
6900 EUR (excluding German VAT)
Through this way you will receive official news related to Touch Guitars, the Touch Guitar Circle and its members.
We will send out a newsletter every two to three months.