This Touch Guitar design (introduced in 2017), the T8 is a less expensive semi-acoustic model providing significant variations on the successful AU8 model. Like the AU8, the T8 is a completely handmade hollow-body guitar, but it features a different and smaller body shape with an offset design. The design incorporates 3D-shaped horns plus extended cutaways for greater forearm comfort (and to enable easier access to the top frets from both sides of the neck).
In contrast to the active-electronics-plus-piezos setup of the AU8, the T8 features passive electronics in a two-pickup/five-position arrangement (similar to that of a classic electric guitar) and a monophonic output. 
As with all Touch Guitars®, construction and finishing options (from wood types used through to custom paint and varnish) are discussed with and chosen by the customer, as part of the custom-creation process. As with the AU8, the T8 also features the option of choosing a distinct wood for the instrument's top.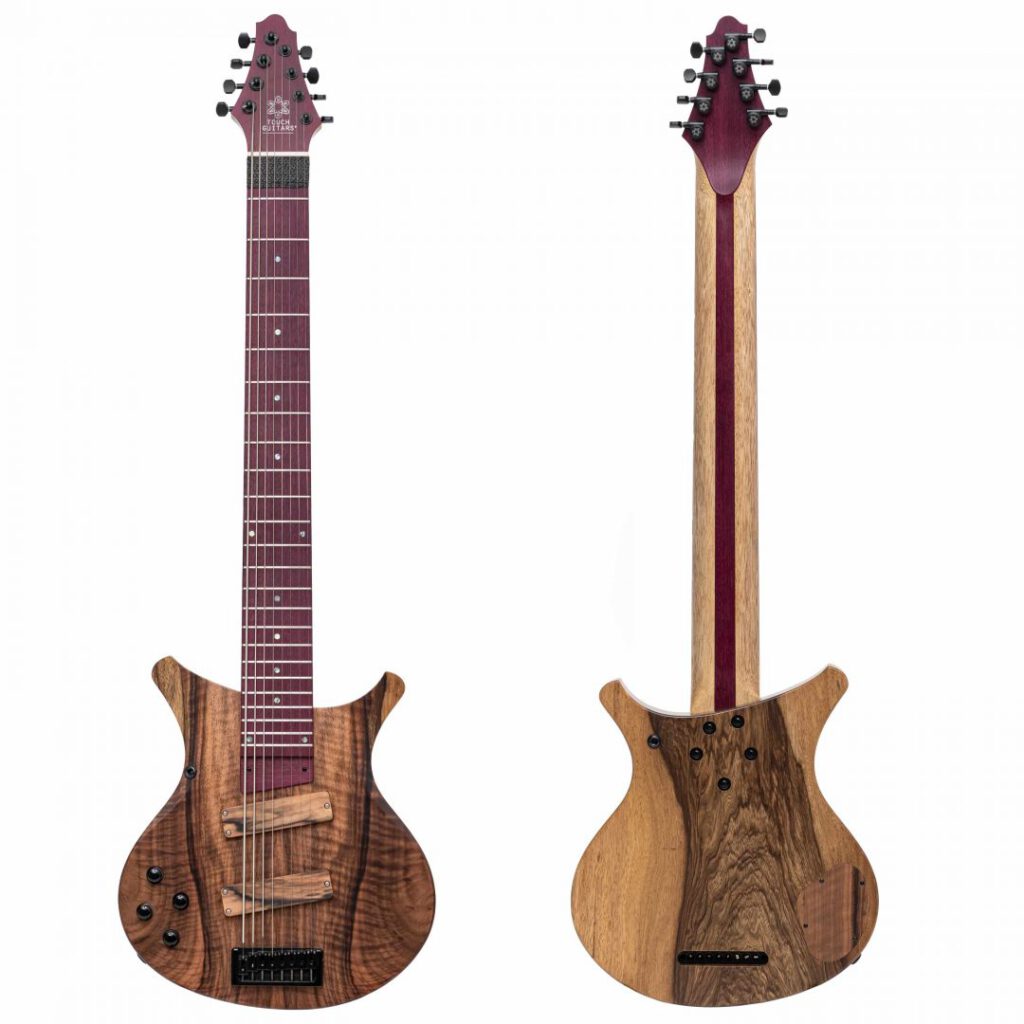 34″ (86 cm) scale length (smaller and lighter than a regular bass guitar, similar feel and heft to a baritone guitar)
Extremely well balanced (stays stable in all playing positions)
8 strings with default tuning of Bb F C G D A C D (although any tuning is possible)
Touch Guitars® Locking Tuners
ABM Custom Bridge with string through body system
Jim Dunlop Straplock System
Body: semi-hollow offset design with 3D horns and extended cutaways, made from FSC-certified wood (default wood options: mahogany, cherry, swamp ash, maple or ash – other options available on request)
Neck: FSC-certified wood with five-point bolt-on construction plus two graphite rod inserts to enhance stability (default wood options: 3-piece maple, mahogany or korina – other options available on request)
Fretboard and headstock overlay: FSC-certified wood (options of ebony, walnut, maple and plumwood)
Top: FSC-certified wood (default wood options: spruce, maple, walnut or cherry – other options available on request)
Damping fabric on 1st fret (can also be removed easily if necessary)
Pickups: 2 x Touch Guitars® Custom Pickup by Harry Häussel ("modern" soapbar style pickup)
Controls: volume (pull for single-coil option), pickup 1 tone (passive treble cut), pickup 2 tone (passive treble cut), 5-way pickup position selector (neck humbucker/neck single coil/neck and bridge humbucker/neck and bridge humbucker in parallel/bridge humbucker)
Custom Passive Electronics
String spacing: 10,4 mm
Finish: default natural clear or sunburst finish (with any other paint and varnish option available via individual arrangement with customer)
Handmade in Austria/Germany
5500 EUR (excluding German VAT)
Through this way you will receive official news related to Touch Guitars, the Touch Guitar Circle and its members.
We will send out a newsletter every two to three months.