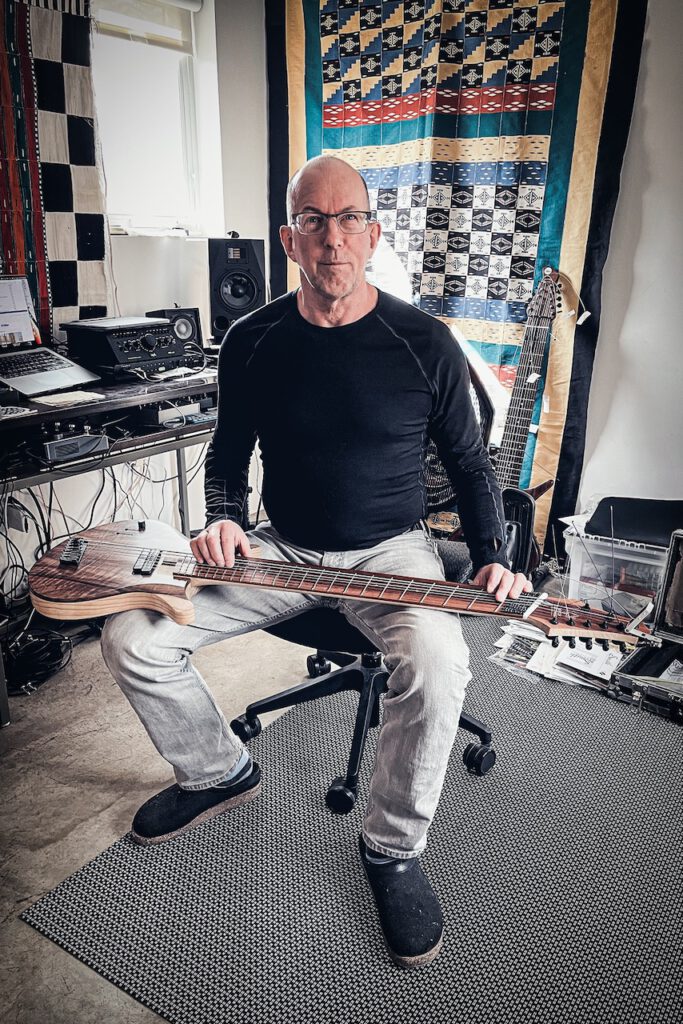 Please welcome
Trey Gunn
to the Touch Guitars® family. We build this very special instrument for him which is optimized for his playing position on the lap.
Trey Gunn
and
Stefan Huth
had a chat a while ago talking about a unique touch guitar build. Trey had very specific needs since he is playing in a standing position but these days he is playing most of the time with the guitar on his lap so it was clear that the T8 model is the way to go since it has a flat body without a shaping.
The first issue we had to cover was the fretboard. We relatively quickly decided on a multiscale. Trey asked for some extra space next to the neck to mount his thumbs since is more comfortable to have some space between the thumb and the low string to play so we basically took the width of a ten string neck, redesigned it and the headstock.
Since we are good friends with Joel from
Cycfi Research Inc.
we took his multichannel pickups which allow every string to be picked up seperately. We also added a Spectra mono pickup. Since Trey is using
Gig Performer
and his Quad Cortex he asked for custom midi sliders for remote control, so Joel made this for us.
This small video shows some pictures of the building process.
The audio excerpt that Trey recorded is only using the multi-output pickup. Super clean and bell-like. FYI > one guitar comes in, then a second and then the bass part. We just love it and please listen in stereo
You will find pics of the instrument at:
Also check Trey out his artist page:
https://www.touchguitars.com/trey-gunn/