Frank Heim was born in Karlsruhe, germany. At the age of 13 he started to play bass, inspired through bands like Guns N Roses, Nirvana and Metallica.
Through his first bass teacher he discovered many styles of music. Metal, funk, jazz, classical music as well as progressive rock … everything was inspiring to the young musician.
When he was 20 he bought his first Chapman Stick, at 23 he also added an electric upright bass to his repertoire of instruments.
Between 2002 and 2005 he also studied bass in Freiburg and Munich.
2006 he got a phone call from his actual band, they needed a bass player. Since then Frank provides the low notes for the german rock band "Saltatio Mortis".
Until now the band had 4 number one album in germany, a golden record, they play very successful tours … and finally Frank added the Touch Guitar to his live-instruments.
website: http://www.frankheim.de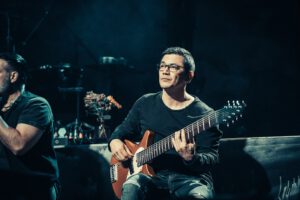 Frank Heim and Stefan know each other for about 21 years since both played on a stick compilation album in 2001. Frank aka Bruder Frank
Read More »