André Müller, a.k.a. aNDREmu, was born in Switzerland and moved on to live and work in Vienna in 1997. He is a multi-instrumentalist (Chapman Stick, electric bass, piccolo bass, piano, guitar) and a composer. Today he focuses mainly on the rather "exotic" Touch Guitar. As a virtuoso player, aNDREmu is exploring the full sonic range of this unusual instrument.
aNDREmu's musical trajectory began at the age of nine, when he started taking classical piano lessons. However, he soon discovered his love for the low notes, which led him to pick up the electric bass in 1983.
He has been working intensively with this instrument ever since. He went on to study at the American Institute of Music in Vienna (he was the only musician of the class of 1994 to graduate with the highest distinction, the Professional Diploma) and at the jazz department of the Lucerne School of Music (from which he graduated in 1997, after only three years of studies).
In his search for new possibilities of musical expression, aNDREmu discovered the tapping technique around the turn of the millennium. This new technique dovetailed perfectly with aNDREmu's musical vision. During his performances, aNDREmu alternates between Touch Guitar and electric bass. He uses a looper to record certain sections of his songs on the fly and then add further layers of music on top.
This way, aNDREmu creates vast musical landscapes that take the listener full circle from spherical sonic spaces to hot rhythms and back again. In addition to solo performances, duo projects (with Touch Guitar or bass and vocals) are a second major facet of aNDREmu's work.
Website: https://www.andremu.com/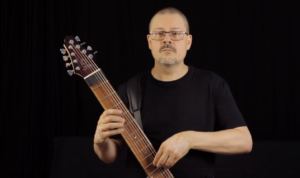 aNDREmu plays the U8 Deluxe in this great performance of his original "Schlafsong". See more of the instrument: https://www.touchguitars.com/u8-deluxe-plumwood-maple-lefty/More Info about the artist: https://www.touchguitars.com/andremu-andre-mueller/https://www.youtube.com/watch?v=B47n_k_0xkI
Read More »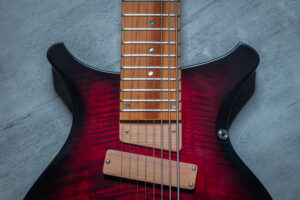 Why does this look weird? It is a beautiful lefty U8 Deluxe made for aNDREmu .He asked for a plumwood fretboard so we did matching
Read More »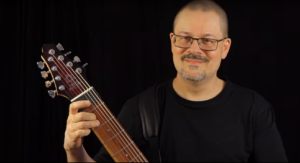 André Müller, a.k.a. aNDREmu, was born in Switzerland and moved on to live and work in Vienna in 1997. He is a multi-instrumentalist (Chapman Stick,
Read More »