Marc Pelath is a musician and composer living in Chicago IL. 
After half a lifetime of flirtations with music, from piano as a child and early teen, to synths and bass guitar as a teenager, to various touchstyle instruments, he finally found a home with the U8 Deluxe, and within a few years started recording his own compositions. 
Marc Pelath's work as The Laconic unites a multi-instrumental backdrop with a deeply focused mindset for programming.  While the U8 is his lead instrument, he also plays bass and synths, and programs drums and percussion.  Among his influences are Tony Banks, Chris Squire, Trevor Rabin, Geddy Lee, and (increasingly) Mike Oldfield.
His instrumental compositions are evocative, eclectic, fearlessly melodic songs without words: structured and harmonised, purposeful and precise in their imaginative ventures.
The Laconic's debut album 'Integrals' (2022 self-released) defined and showcased this fusion of elements, with meandering performances and extensive underlying soundscapes across eight original instrumentals. His second album, 'Amor Fati' (2023 Iapetus), delves into the post-progressive realm once more, and features touch guitarists Erik Emil Eskildsen and Tim Gardner, among other guests.
Website: https://thelaconicmusic.com
Bandcamp: https://thelaconic.bandcamp.com
FB: https://www.facebook.com/thelaconicmusic
Album:
'Amor Fati' is the second full album by Chicago-based composer and multi-instrumentalist The Laconic, and continues the program established with 2022's Integrals, of creating evocative, eclectic, and emotional songs without words. Not quite a concept album, but not quite not a concept album either, 'Amor Fati' was inspired by the topics of fate and eternal recurrence. Not really not progressive rock, but not really progressive rock either, it draws from other genres, from salsa to spaghetti western, and veers away from expectations at will.
In contrast to 'Integrals', 'Amor Fati' was recorded together with an array of guest musicians: Gary Husband (keyboards), Juan Dahmen (drums), Aralee Dorough (flute) and Colin Gatwood (English horn), Tim Gardner (touch guitar), Iapetus artists Christina Ruf (cello) and Erik Emil Eskildsen (touch guitar), and brother Scott Pelath (guitar).  'Amor Fati' was produced by Markus Reuter, mixed by Stefano Castagna at Ritmo e Blu Records, and mastered by Lee Fletcher.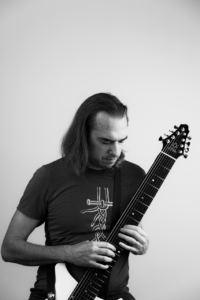 Marc Pelath is a musician and composer living in Chicago IL. After half a lifetime of flirtations with music, from piano as a child and
Read More »