Jacob Leibeck is a multi-instrumentalist musician who resides in Lexington, KY. Jacob specializes in crafting challenging polyphonic arrangements for two-handed guitar that combine expressive techniques with inspired sound design. He plays both a U8 in the standard fifths tuning as well a U10 tuned in mirrored fourths. 
The U10 is Jacob's performance instrument of choice. He utilizes the separated output to play two or more guitar parts at once, sometimes in tandem with other instruments. He is always pushing the limits of technique and effects to elevate what is possible from one person and one guitar.
He also makes use of the U8 to use his two hands in parallel for more demanding pieces of music. Combining the combined speed and precision of two hands, Jacob has used his U8 to deliver many shred-worthy lead lines, rapid fire bass lines, layered soundscapes, and, on occasion, even sounds beyond guitar itself.
Jacob performs as a solo artist, as a combined bassist and guitarist for VGM collective Death Mountain, and has contributed Touch Guitar recordings to numerous different musical projects including Habitual Depravity and Through the Wire. Jacob is also very passionate about developing and teaching the tapping technique, and has been involved in several Touch Guitar Circle seminars since 2017.
Death Mountain Bandcamp: https://deathmountain.bandcamp.com/
Death Mountain Youtube: https://www.youtube.com/@deathmountain9520
Solo Youtube:  https://www.youtube.com/@TapsOnGuitars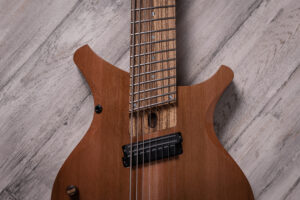 We are so happy to announce the very first updated semi-hollow AU8. There is a lot of stuff happening on this instrument beside this beautiful
Read More »