Alexander Paul Dowerk is a music producer, composer and touch guitarist from Germany.
The Berlin-based musician combines the sound and energy of modern, progressive metal with the compositorial depth of contempory classical music. The result is a complex and powerful interplay of body and mind.
The Touch Guitar is Alexander's weapon of choice in mastering guitar and bass parts alike. Alexander often uses touchstyle-playing to create musical parts that wouldn't be possible to play on any other string instrument. His works display a strong sense of detail and groove with complex rhythmical structures that are often created by layering multiple polyrhythms upon each other. His current projects are "Anchor and Burden" with Markus Reuter, Bernhard Wöstheinrich and Asaf Sirkis and "Hypostase", his hypnotic industrial solo project.
Website: https://www.alexanderdowerk.com
Facebook: https://www.facebook.com/alexanderpauldowerk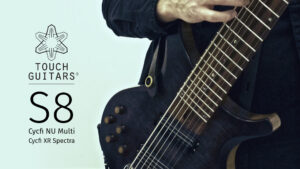 It does not matter if you never heard of multichannel pickups. It is pretty rare but an amazing way to process each string separately.  The
Read More »