Markus Reuter (b.1972 in Lippstadt, Germany) is a composer, record producer, performing musician, educator and psychologist whose career has received international recognition. Reuter played several instruments as a child and began composing at the age of thirteen.
In his teens, Reuter studied music history, theory, and analysis with Karlheinz Straetmanns, a composer in the lineage of Harald Genzmer and Paul Hindemith. From 1991 to 1998 Reuter attended Robert Fripp's Guitar Craft in which intensive courses in music combined with the philosophical teachings of J.G. Bennett and George Gurdjieff played an influential role. The latter's work on movement, especially his Sacred Dances, had a lasting impact on Reuter's development of a systematic playing technique for the Touch Guitar, the eight string electric guitar he has since adopted as his main instrument. Reuter went on to study Psychology at the University of Bielefeld while practicing instant composition with a system of out-of-synch looping devices – an approach that led to several critically acclaimed releases as a soloist and with the group Centrozoon – and free improvisation with Prof. Gerd Lisken's Chaos Orchester Bielefeld. He further deepened his interest in permutation-based compositional principles during apprenticeships with Belgian composer Daniel Schell and Indian music scholar Ashok Pathak.
Reuter has become a "star" in the ambient field with his solo work as well as with continuing collaborations with Robert Rich and Ian Boddy. Joining the prestigious Crimson ProjeKCt (with Adrian Belew, Tony Levin, and Pat Mastelotto) in 2011, he's been touring 4 continents to critical acclaim. In 2013 Markus Reuter is back playing solo shows, in which he showcases his ability create intriguing compositions in the moment and joined Tony Levin's Stick Men while writing compositions for classical musicians.
Website: http://www.markusreuter.com  
Youtube: https://www.youtube.com/user/markusreuter/videos
Facebook: https://www.facebook.com/kopfmensch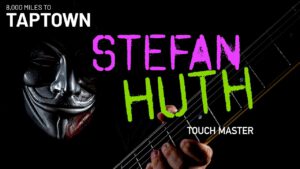 Stefan Huth did an interview with Finbar O'Hanlon from Australia talking about his influences, Touch Guitars, working with Markus Reuter , his bands and a lot
Read More »